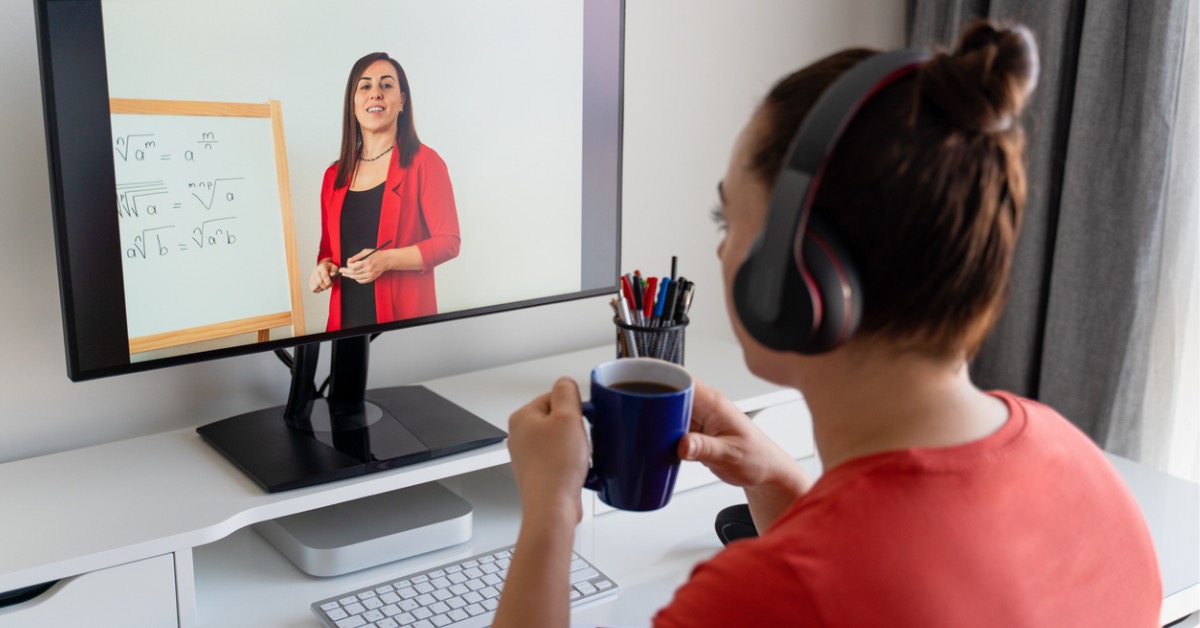 This blog provides an overview of what features should be considered when choosing a camera for educational purposes, including hybrid and remote learning, and recommended APT AV cameras.
Cameras in education
The need for cameras in educational settings has evolved significantly in recent years. It's now common practice for lessons, lectures, and events to be live-streamed and recorded.
This is particularly relevant to higher education, where lectures, inaugurations, graduations, and other events are live-streamed and recorded for those unable to attend in person.
The student/viewer experience is central to selecting the right solution for video in educational settings. An education camera that delivers poor image and sound quality or continuously 'hunts' for subject focus will provide a substandard remote learning experience.
Ease of use and reliability are essential to developing a seamless student experience. Your education camera solution needs to be easy to operate by faculty members, allowing them to focus on the lesson, lecture, or event at hand rather than worrying about disruptions or dropouts.
Features and performance for education
So, what features are most useful for education cameras? Here are a few essentials:
Auto-tracking​
High-performance subject auto-tracking is a must-have feature. Auto-tracking uses subject and facial recognition technology to identify and lock onto the main subject. The camera then automatically pans, tilts and zooms to follow the subject as they move around the room. Auto-tracking makes the viewing experience much more engaging than viewing a static wide shot of a lecture hall or classroom.

Not all auto-tracking technology performs as it should, so it pays to choose wisely, as auto-tracking that does not follow the subject smoothly and consistently creates a disruptive viewer experience. Some cameras feature tracking exclusion zones. This feature ensures that the camera does not chase a new subject - someone entering a room, for example.
Picture quality and zoom
Picture quality is determined by the lens quality, autofocus performance, sensor resolution and quality, and image processing. Advanced image processing with 2D and 3D digital noise reduction will ensure image clarity and natural colour under various lighting conditions.

4K/Ultra HD or 1080P/Full HD video capture will deliver crystal clear, colourful, and natural images. Ultra HD provides sharper images on larger screen sizes.

The camera's zoom lens range should be chosen according to the room size and shape. It needs to be wide enough to cover the widest desired framing and provide sufficient zoom magnification to provide a close-up of the main subject.
Compatibility and network
You should choose a camera with connectivity options that are compatible with your existing IT and AV infrastructure.

Network protocols should be chosen and configured to achieve the best balance between image quality and latency (the delay experienced by remote participants).
Microphones
Most educational cameras require external microphones. Options to consider include:
Lavalier or lapel mic for the lecture and other presenters.

Lecturn mic

Radio mics or microphones focusing on zones can capture ambient sounds or contributions from around the room.
APT AV Education Products
HD100T Education Intelligent Auto-Tracking Camera
A fully featured, high-performance pan tilt zoom (PTZ) camera designed for educational settings. Featuring advanced auto-tracking pan tilt zoom (PTZ), an integrated ultra-wide panoramic camera and Full HD output resolution, the HD100T is built to capture hybrid and online learning content.
A choice of zoom lens magnifications, and HDMI, NDI, and LAN connectivity make the HD100T suitable for all configurations.


Best for: Live streaming and recording, lecture capture, school event streaming, hybrid classrooms, distance education.
HD220 Lecturer Auto-Tracking Electronic Pan Tilt Zoom (ePTZ) Camera
Driven by world-leading technology and high-quality components, this easy-to-configure and affordable lecture camera delivers accurate and natural auto-tracking. The HD220 incorporates an ultra-wide lens and advanced 4K CMOS image sensor to deliver Full HD video output. 3x digital zoom magnification is available while retaining excellent image sharpness. SDI, USB 3.0 and LAN connectivity makes the HD220 suitable for a wide range of applications and can be counted on to deliver exceptional image quality and robust reliability.
Best for: Lecture capture, school event streaming, hybrid classrooms, and distance education.
About APT AV
APT AV videoconferencing and IP cameras comprise a wide range of products and accessories for professional and business applications. The range has been curated and sourced from one of the leading worldwide manufacturers, specifically for the Australian and New Zealand markets.
The APT AV range is designed and manufactured to deliver excellent image quality, professional-standard durability, configurability, systems integration compatibility and outstanding value for money. 
AP Tech is an authorised Australian distributor of APT AV products. Every solution is backed by local warranty and support.