Reliable solutions for companies that count
on their AV equipment
Trusted wherever live video happens
---
Live video production
Produce seamless video capture with Epiphan's range of video streaming hardware



Epiphan Pearl - All-in-one
Explore the Pearl-2, Pearl Nano and Pearl Mini. The ultimate system for maximum versatility with multi-encoding, multi-camera streaming, recording, custom layouts, switching, and more.
Epiphan Pearl is the easiest and most reliable way to produce live video productions. It's live streaming made easy.
Professional live streaming and recording. For everyone

Encode, record, stream video
Everything you want in a video streaming hardware encoder

Reliable
​
Heavy duty construction designed for daily use. Pearl is built and tested to be robust and free of technical failure.
Professional ​
Create engaging live stream events and recorded programs in resolutions up to 4K (for Pearl-2 with 4K add-on).
Versatile

Flexible enough to fit a wide variety of workflow models. Walk into any customer situation knowing you have the solution at hand.

Live switching at your fingertips

---
Incredibly easy to use, Pearl makes switching between your connected sources or layouts a breeze. Or use the web-based Epiphan Live to do switching from your phone or tablet.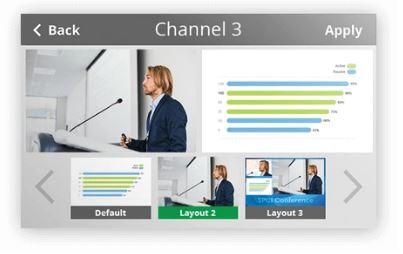 Stream to almost any platform

---
Broadcast live streams simultaneously to YouTube, Facebook or any other content delivery network or content management system. At the same time, use the built-in streaming server to stream locally to web browsers, smart TVs, and set-top boxes.
Seamless CMS integration

---
Seamlessly integrate with Third-party video encoding, scaling, and live streaming software. Pearl integrates easily with content management systems (CMS) and with learning management systems (LMS) such as Kaltura, Panopto, Blackboard, Mediasite and Moodle.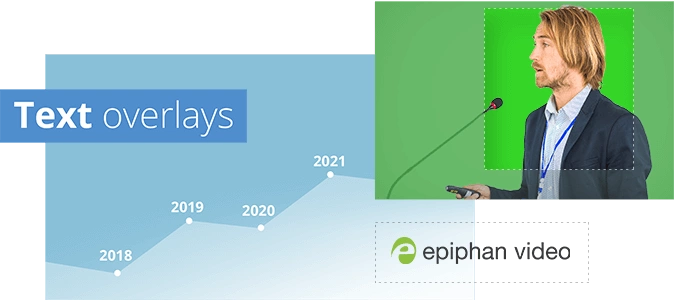 Customise your layouts to perfection

---
Design your own custom layouts, including picture-in-picture and image overlays, using the drag-and-drop editor in the Pearl web-based Admin panel. Combine, crop, and scale your video sources. Add overlay images, text, timestamping, chroma key, and more.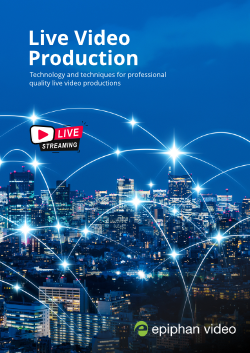 Free eBook download
Live video production
Technology and techniques for professional quality live video production
Remote login

---
Login to your Pearl securely from anywhere over an Internet connection. Quickly take control of Pearl for remote rescue troubleshooting, support technicians in the field, control recording, switching, and more.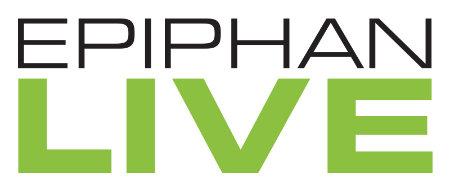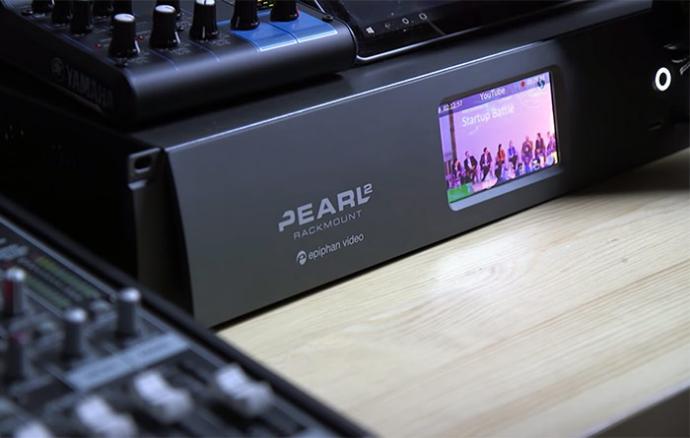 IT-friendly installation

---
Pearl is network security compliant with 802.1x support, RTMPS encryption for secure live streaming, SFTP, and HTTPS data encryption. No headaches for your IT staff.
IT-friendly and network security compliant
The Pearl family video encoders offer a network secure, 802.1x compliant video capture solution that's a great fit for corporations and institutions looking for better content security. The captured video can be recorded, streamed anywhere, or automatically uploaded to any CDN, CMS, or local server.
Pearl Nano

Connect up to two sources for streaming and recording of a 1080p program.
Pearl Mini

Connect up to three sources to encode and stream three 1080p programs.
Pearl-2

Connect up to 6 sources to encode and stream one 4K or up to six 1080p programs.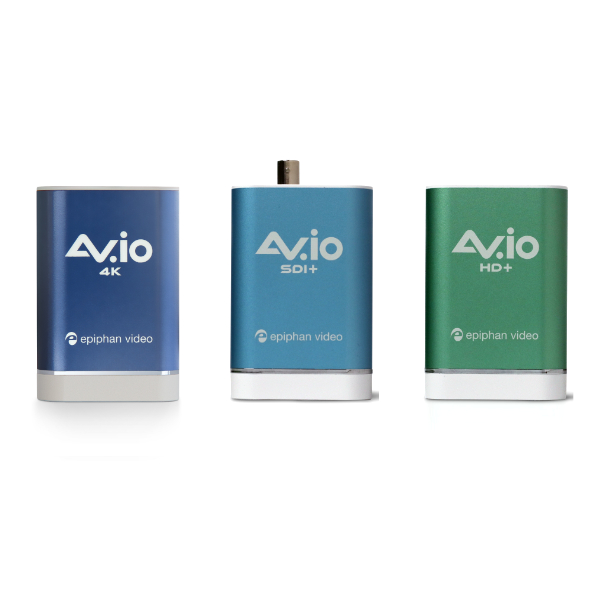 Epiphan Capture Cards
---
Capture lossless video from just about any video source including DVI, HDMI, and SDI. Seamlessly integrate with third-party video encoding, scaling, and streaming software.
Epiphan capture cards are portable and durable. They feature full-sized connectors, rugged metal enclosures, and include all the cables and adapters you need for video capture.
Av.io
Epiphan AV.io 4K™, AV.io HD+™ and AV.io SDI+™ use UVC drivers pre-installed on your computer, making it easy to capture video from your camera or other video source. Just connect your video source to one end and your computer to the other via USB and you're ready to capture with any consumer or commercial encoding software.
---


Live transcription
Easy, accurate, and affordable live transcription



Epiphan LiveScrypt

---
Make your events more accessible and engaging with real-time speech-to-text conversion by LiveScrypt, a dedicated automatic transcription device powered by advanced speech recognition technology. From conference presentations and company town hall meetings to university lectures and church sermons, LiveScrypt can transcribe it – automatically, accurately, and affordably.



Find a reseller
Tell us about your business or application and we'll recommend one or more resellers to help you.


To install this Web App in your iPhone/iPad press
and then Add to Home Screen.