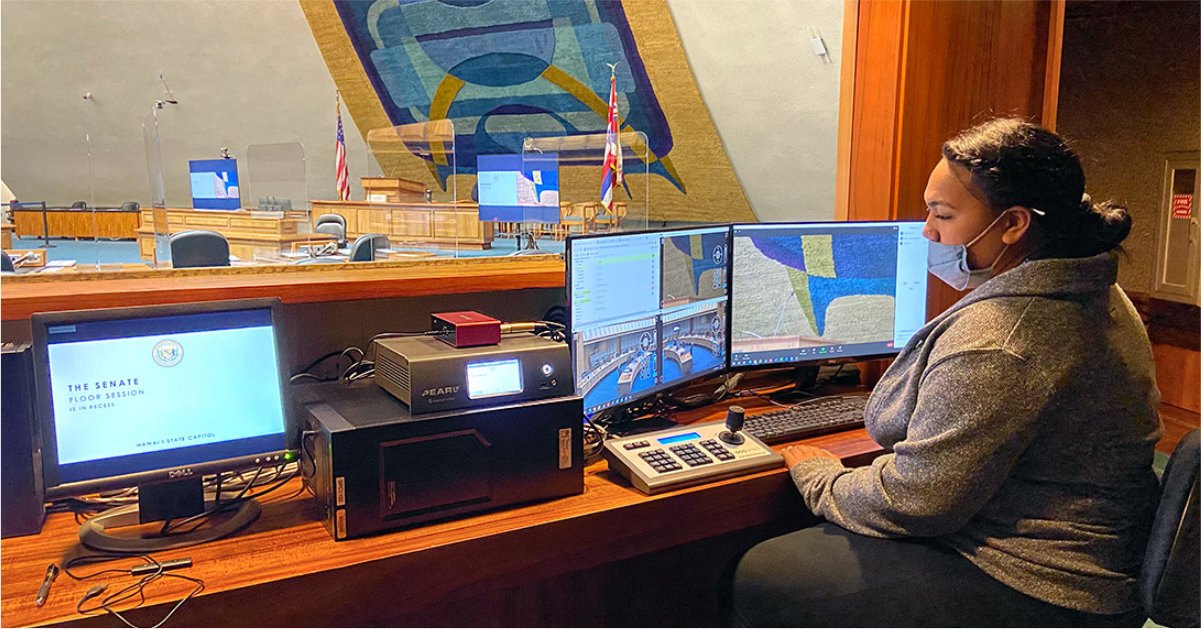 This blog post looks at how the Hawaii State Senate utilised six Epiphan Pearl 2 all-in-one video production systems in its facility to record and stream sessions and hearings. 
The Senate's IT team used AV-over-IP technology to send video and audio from the hearing rooms to Pearl 2 over NDI® (Network Device Interface).
Streamlined Video Production.
To increase its capacity to live stream Senate hearings, the IT department at the Hawaii State Senate wanted to leverage the building's existing local area network (LAN) to transmit audio and video from hearing rooms to a centralised production room via NDI. For video capture and production, the team wanted an all-in-one solution to support NDI inputs and switch, stream, and record video.
In addition to being NDI-compatible and feature-rich, the solution also had to be easy to use. IT Director Chris Lam and Systems Analyst Robbie Omura often work with temporary production operator hires, so straightforward system training and operation were essential.
The solution: Epiphan Pearl 2, the all-in-one video switching, streaming, and recording system with NDI support.
Omura set up six Pearl 2 encoders to capture NDI inputs from individual session spaces. All six rooms feature three video sources, including two PTZ cameras and one computer with video conferencing for remote participation. A Pearl 2 system captures all three video sources via NDI, and in-room audio is brought in through one of the PTZ cameras.

Before each session, the team preloads graphic slates onto Pearl for dynamic switching during the event. Every Pearl 2 unit is assigned a single operator to control switching, recording, and streaming. Each system sends two 1080p streams: one to YouTube over RTMP and one to CCTV over NDI.

The ultimate all-in-one live video production system
Pearl 2 brings the pro features and processing horsepower required for the most demanding live events.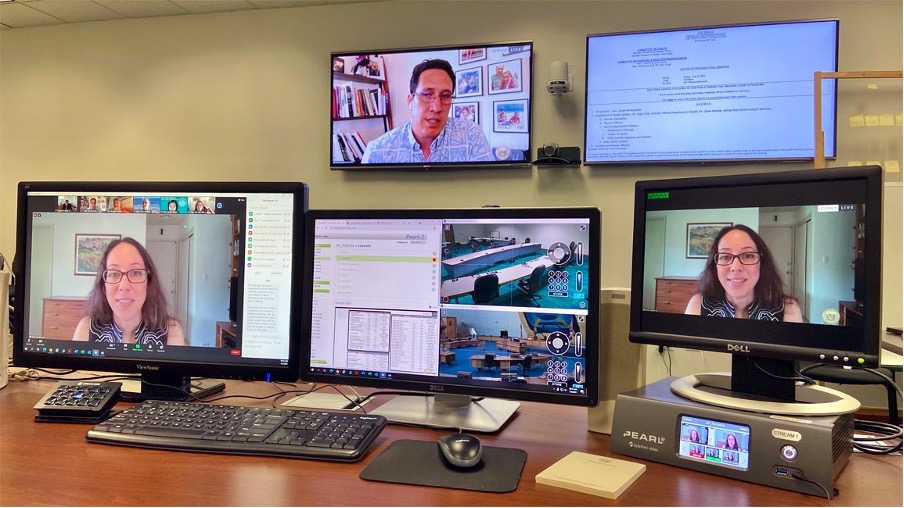 A win for IT: centralised, efficient, and easy-to-operate video production.
Powered by Epiphan Pearl 2, the Senate's centralised setup introduced easy-to-manage workflows with consistent results.
Flexibility to hire non-technical operators.
Thanks to Pearl-2's simplified user interface and controls, it now takes Lam and Omura no time at all to teach new users the basics: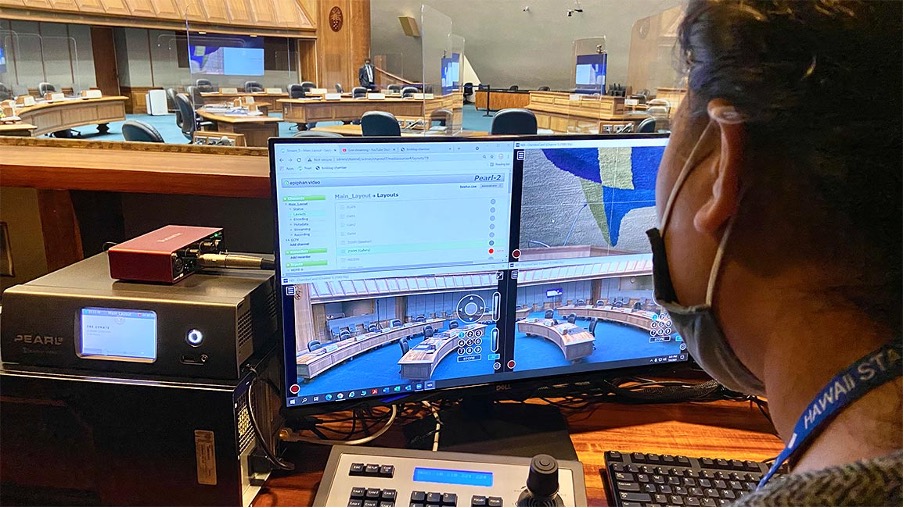 "Pearl-2 is straightforward enough that any of our users can confidently operate it, even if they have little technical or video experience."
 Chris Lam, Director of IT, Hawaii State Senate
Efficient video production setup
Pearl 2 was the all-in-one solution Lam and Omura were looking for and delivered all the needed features, including NDI input and output, mixing, switching, streaming, and recording. By setting up all their Pearl 2 units in a remote-control room, the IT team could create a centralised production workflow and minimise tech clutter on the Senate floor.
Consistently high-quality video
Just as constituents can count on finding the Senate's session and hearing videos on YouTube, the Senate IT team can be sure their video capture setup will work without fail.
"I've been more than happy with Pearl 2, performance-wise. Running five systems daily, we had no hardware issues or technical difficulties." 

Robbie Omura, Systems Analyst, Hawaii State Senate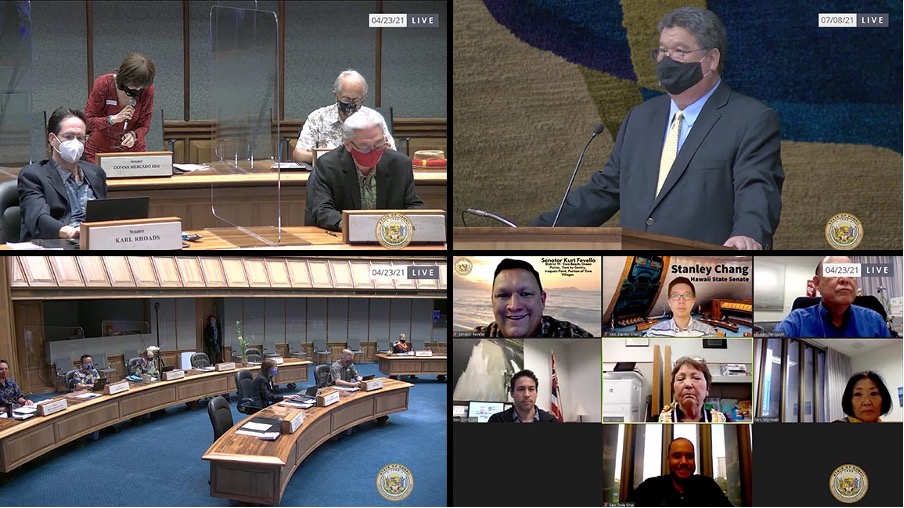 Leading by example
Following the Senate's success, the Hawaii House of Representatives implemented an identical NDI video capture solution with six Pearl 2 units.

*This blog is extracted from Epiphan.
About Epiphan
Epiphan Video provides award-winning, purpose-built hardware solutions that help your business create impactful video content. 
The Epiphan Pearl range of hardware encoders is the ultimate system for maximum versatility with multi-encoding, multi-streaming, recording, custom layouts, switching, and more. Ideal for use in live event production, enterprise communication or lecture capture in higher education.
AP Tech is the authorised Australian distributor of Epiphan Video products. Every Epiphan solution from AP Tech is backed by local warranty and support.