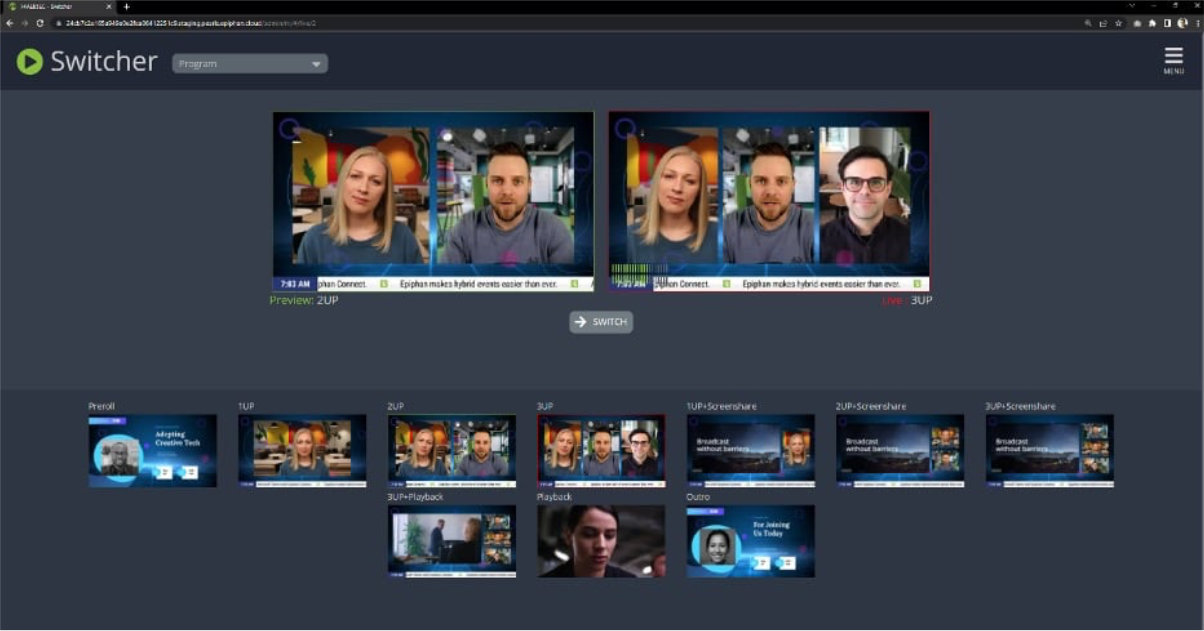 AP Tech is excited to announce that Epiphan Video has launched Epiphan Connect for Zoom. It's the latest expansion of the cloud-based tool that makes broadcast-quality live streaming more accessible.
Epiphan Connect leverages the simplicity and convenience of Zoom Video Communications, Inc. to enable better hybrid productions and remote contributions through a cloud-based workflow. All guests need to do is join a Zoom Meeting or Zoom Webinar, and the producer can extract signals to deliver broadcast-quality productions easily and efficiently.
Nic Milani, Epiphan Video VP of Marketing and Business Development, says, 

"We saw an opportunity to expand broadcast-quality production to a wider audience. With its robust platform and millions of users, Zoom was the perfect fit for Epiphan Connect. We're excited for this opportunity to collaborate with Zoom and deliver on a shared vision of video for all."
How Epiphan Connect Works with Zoom
Through a refined and intuitive interface, Epiphan Connect lets users extract as many as nine 1080p ISO video feeds (up to 30 frames per second) from Zoom Meetings and Zoom Webinars, including participants and screen shares, with isolated participant audio. It delivers the highest quality image consistently by communicating directly with Zoom infrastructure to send these feeds to any production tool, whether edge or cloud-based, leveraging the SRT (Secure Reliable Transport) protocol for end-to-end security. Via Epiphan Cloud, it also supports direct integration with Pearl hardware, allowing ISO feeds to be sent directly from Epiphan Connect.
Expanding accessibility of broadcast quality productions 

The rise of hybrid and remote work has brought unprecedented demand for communication and collaboration solutions like Zoom. More and more organisations are using the same tools for all videos, whether an external broadcast like a webinar or an internal event like a corporate town hall meeting. This has driven demand for better video quality – but without sacrificing convenience.
"We're all aware of the critical role video plays, and there's a growing understanding that quality matters more than ever to drive engagement," says Julian Fernandez, Epiphan's Director of Product Marketing. "We've heard from more and more organisations searching for Zoom functionality within Epiphan Connect, and we're proud to announce this expanded capability."
Epiphan Cloud works in conjunction with Epiphan Pearl hardware to create an ecosystem of production capabilities that can work with your existing gear and workflows to make any space a studio. Whether you want to produce a webinar with remote participants completely in the cloud or bring in a remote contributor to an on-site all-hands, the toolset allows customers to step in and make any video an experience.
Epiphan Connect for Zoom is available now. 

*This blog is extracted from Epiphan.
About Epiphan
Epiphan Video provides award-winning, purpose-built hardware solutions that help your business create impactful video content. 
The Epiphan Pearl range of hardware encoders is the ultimate system for maximum versatility with multi-encoding, multi-streaming, recording, custom layouts, switching, and more. Ideal for use in live event production, enterprise communication or lecture capture in higher education.
Every Epiphan solution from AP Tech is backed by local warranty and support.