In the past few years, primary and secondary school teachers have needed to adapt their teaching styles to remote or hybrid learning to adequately support students' academic and social-emotional needs during a crisis.

For many schools, students were split into two groups, in-person and at home, for hybrid learning. Classes ran synchronously on a regular school schedule, with teachers instructing both groups at once through interactive instruction.
Today, hybrid learning remains a vital component of the K-12 classroom environment, and it looks like it's here to stay. Educational institutions require a robust video solution to enable teachers and students to set a positive agenda.
This article outlines how Swivl empowers students and teachers to enjoy an interactive and flexible hybrid learning environment.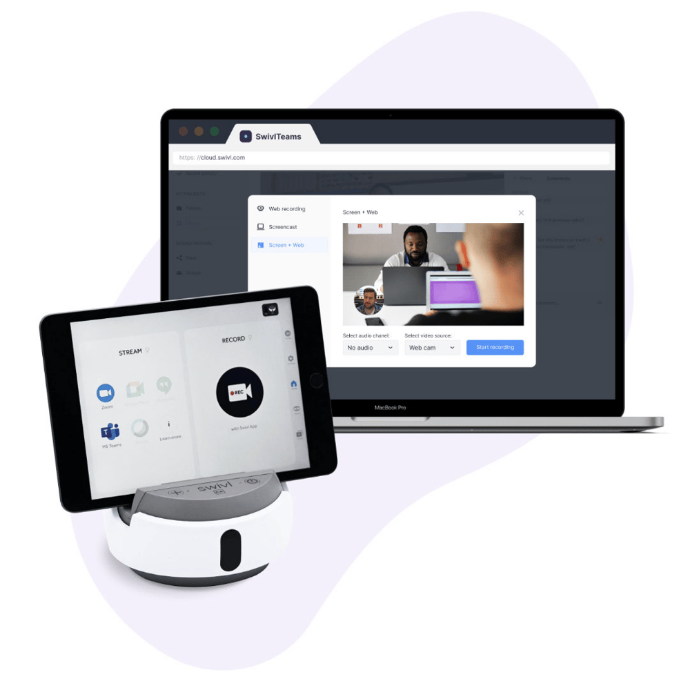 Flexibility to move freely around the classroom

Swivl empowers teachers to do more of what they love without being confined to one spot while teaching a lesson. Swivl's auto-tracking robot seamlessly tracks the teacher as they walk around the classroom to interact and engage with students.
US-based Fairmont Schools has successfully implemented the daily use of Swivl across its five campuses throughout Orange County, California. Fairmont School Director DJ Clovis maintains that the freedom of movement the Swivl provides teachers is invaluable.
"No one got into teaching so they could teach at little squares on a screen for eight hours a day," DJ says.
Remote participation and collaboration

Giving students the best possible access to education is key to maintaining positive learning outcomes. Swivl enables teachers to make lessons interactive for students in the classroom and at home.
Suppose a student cannot attend due to sickness, travel, or other reasons. They don't have to be concerned about missing important information. The same goes for teachers, who can broadcast classes from home if required.
Fairmont Schools has developed a remote learning experience that gives students at home a portal into the in-person classroom. The use of Swivl to achieve this has generated positive feedback from the school community.
"Their parents say that the kids at home feel like they're part of the class for the whole school day," DJ said.
Empowers students and teachers to take ownership

The Swivl's plug-and-play capabilities make it easy for students and teachers to operate the equipment successfully.
Fairmont Schools uses the Swivl solution in over 100 classrooms throughout its campuses. The set-up includes a Swivl robot and markers, an iPad, a desktop computer, a television and a projector.
DJ notes that students have quickly adapted to their new environments, and teachers have empowered students to take part in running their hybrid classrooms. He recalls a story of one teacher who was recently absent. Throughout the year, she had marked and labelled all the devices and walked students through the routine of setting up for the day. With a teaching assistant, students set up all of the audio/video needed for the class to continue in-person and remote learning students, even with a substitute present.
"This is a teacher who invested in our system, and because of that, she has the kids invested in the system, too," DJ said.
Swivl frees teachers to engage students in a hybrid classroom in a way that feels natural to them. It also allows them to increase student agency and leadership simultaneously.
Visit our website to learn more about Swivl.

*The information in this blog is extracted from Swivl.
About AP Tech
AP Tech is a specialist importer and distributor of video communications and streaming technology, products, and solutions. We provide IT and AV integrators with insights to help you build world-class solutions for your clients, with technical expertise and personalised service. Every solution from AP Tech is backed by local warranty and support.