Photo credit: Realtair
With more than 30 years of award-winning real estate experience, Lee Woodward is passionate about sharing his knowledge and experience with real estate professionals in the industry. His dedication to helping others thrive led him to establish the Real Estate Academy. Offering training workshops, leadership courses and other live speaking events, Lee's highly sought-after live speaking events saw him delivering programs at venues across Australia.
The Need: A professional and user-friendly AV solution to facilitate a shift to virtual events
Like many other businesses that relied heavily on live events, Lee needed to transition quickly to taking his training events digital when the pandemic hit in 2019. He wanted to find an AV solution that would allow him to continue delivering his events virtually, with a key focus on creating a high-quality and engaging experience for those attending.
Video production had always been front of mind for Lee. However, production costs could run up to $10,000 a day.
"It was too complex, cumbersome and expensive," Lee explains. "Particularly the costs of hiring a full production team."
He required an AV solution that helped him create professionally produced video from his Gosford-based studio, with a key focus on delivering clean, engaging and professional quality video and audio.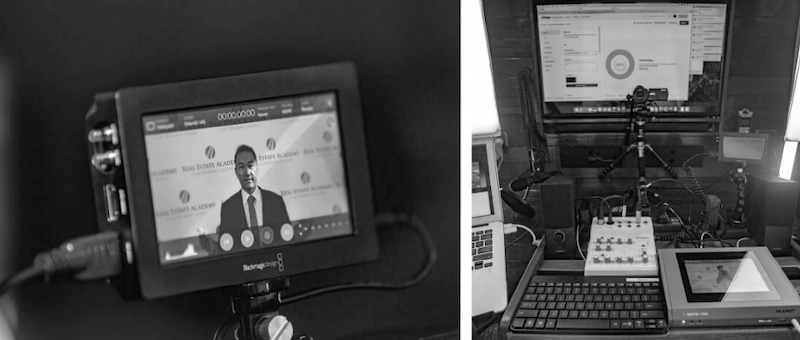 Photo credit: Realtair
The Solution: Pearl Mini – a powerful, all-in-one video production system
Lee came across an ad for the Epiphan Pearl Mini. After further research, he called AP Tech, Epiphan's Authorised Australian Distributor. A conversation with CEO and Founder Andrew Paton was enlightening.
"I told Andrew, if the Pearl Mini does half the things you say it will do, I'll buy one right now," Lee recalls.
A short time later, AP Tech sent one of their reps out to a speaking event Lee had in Melbourne and gave him a demonstration of how the Pearl Mini video encoder could assist in creating video content for live and in-studio productions.
The features and capabilities of the Pearl Mini that Lee finds most beneficial are:
The ability to record, stream, and switch up to three full HD video inputs from HDMI, SDI and USB sources.
A built-in 7-inch touchscreen makes it easy to switch between video sources and layouts
Secure Reliable Transport (SRT) for broadcast-quality, low-latency video streaming
Ability to seamlessly include live remote guests while maintaining exceptional audio and video quality.
The Result: A powerful, robust AV configuration that has broken down barriers
With the Pearl Mini at the heart of his AV production setup connected to two Sony cameras (one being a 4K video camera), Lee's impressive video production studio includes backgrounds and professional lighting and audio.
Lee can shoot up to 30 scenes daily without assistance, using iMovie to edit scenes or an external video editor when necessary. Whether he's filming training modules, leadership courses, or master classes, he has everything he needs within arm's reach.
"The Pearl Mini puts me in full control of live and recorded professional-standard content," Lee explains. "I work on my own – presenting and producing simultaneously. It really is incredibly efficient."
Since implementing the Pearl Mini, the demand for Lee's real estate training programs has skyrocketed. In 2020, Lee's business, The Real Estate Academy, was acquired by PropTech innovator Realtair where he is now their Head of Digital Education at the helm of Realtair Academy.

About Epiphan
Epiphan Video provides award-winning, purpose-built hardware solutions that help your business create impactful video content. 
The Epiphan Pearl range of hardware encoders is the ultimate system for maximum versatility with multi-encoding, multi-streaming, recording, custom layouts, switching, and more. Ideal for use in live event production, enterprise communication or lecture capture in higher education.
AP Tech is the authorised Australian distributor of Epiphan Video products. Every Epiphan solution from AP Tech is backed by local warranty and support.