Redfish Technologies provides evidential hearing solutions to the WA Perth Casino Royal Commission
Redfish Technologies specialises in designing and implementing evidential recording and holistic audio-visual solutions to capture the spoken word into a permanent format. Courts, law enforcement, government hearings and commissions, and local governments use the solutions. The recording of public and legal forums and the emergence of live streaming of these meetings requires technical excellence in converging and recording video images and audio within a room. The output produces a permanent written or digital recording and simultaneously includes public live streaming/viewing.
Established in 2010 by Stuart Herring, the Perth-based AV and recording technology business has earned an enviable reputation for excellence that spans specialised expertise. This includes fit-for-purpose, high-quality recording and audio-visual solutions with specialised, reliable, and user-friendly transcription support.
Redfish Technologies' services are sought-after across Australia and around the world.
The need: To deliver robust, high-performing AV solutions for audio and video capture
With clients based in Australia, New Zealand, the US, the UK, and Southeast Asia, Redfish Technologies delivers an all-inclusive approach when implementing AV solutions for their clients, including professional standard audio and video capture.
"Our process is designed to create a solution that delivers precisely what the client needs," Stuart explains. "We analyse the client's needs, existing IT infrastructure and internal technical capability and respond with a solution that considers both the technology and workflow to the client's requirements."
When selecting and sourcing AV products to help him achieve this, Stuart and his team require reliable solutions that are easy to install, easy to learn for the user, and offer resources to enable the Redfish Technologies team to provide premium support.
The solution: Epiphan Pearl – The ultimate high-performance video production system
Partnered with AP Tech since 2018, Redfish Technologies regularly uses Epiphan products when integrating custom AV live-streaming solutions for their clients, including Epiphan Pearl video encoders.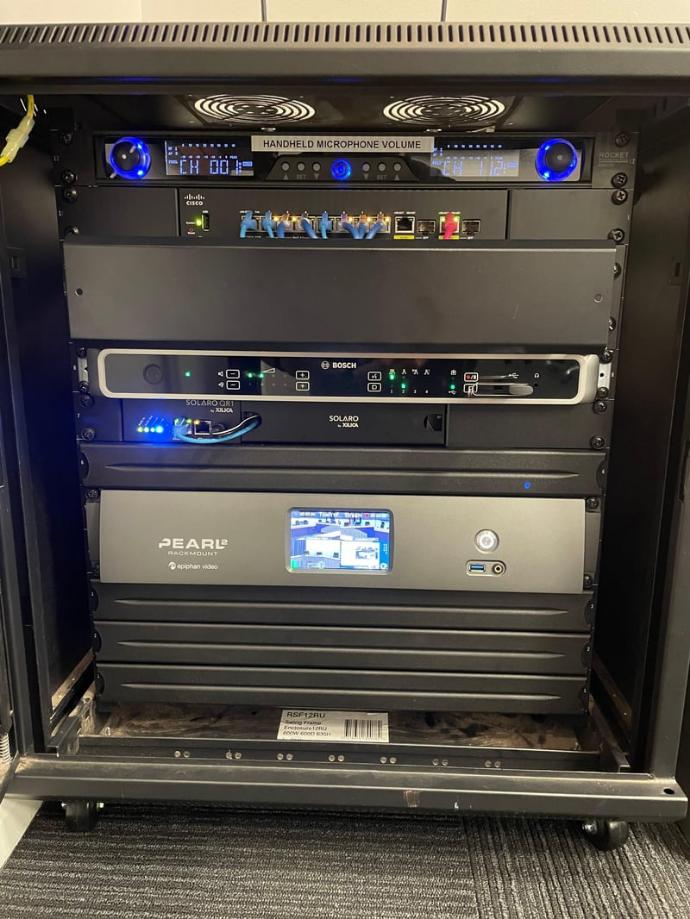 The Epiphan Pearl is a uniquely powerful and specialised all-in-one video distribution device. Featuring multiple video and audio sources, it allows users to conveniently switch sources, encode the AV signal, record, and stream in professional broadcast quality.
"The plug-and-play nature of the Pearl video encoders makes installation and setup straightforward. Furthermore, the ability to customise the user workflow simplifies user training and ongoing use," explains Stuart.
Output content can also be customised. For instance, a courtroom or local government environment will often require specific content to be shown on in-house displays, with different content recorded or streamed to an external audience simultaneously.
A configuration that cuts through with APT AV
Redfish Technologies frequently uses APT AV PTZ (pan-tilt-zoom) cameras deployed with remote control operation as part of their audio-visual offering. These specialised conferencing cameras are part of AP Tech's professional AV product range.

"APT AV cameras go hand in hand with the Pearl encoders," says Stuart, citing their high-quality optics and video output, durability, integrated control and reliability as the main reasons he consistently uses these when implementing AV solutions for clients.
The result: Powerful, customised AV solutions combined with second-to-none support
With a client base that continues to thrive and increased demand for evidential hearing AV solutions across the globe, Redfish Technologies have become established experts in its field. With recent clients, including the numerous justice-based environments, WA Perth Casino Royal Commission, multiple WA Local Governments, Singapore District Courts, and many of the Parliaments in the region, Redfish Technologies delivers reliable and high-quality solutions.
"Each customer and their needs are unique, and we have the knowledge and experience to create and deliver a solution that will work technically and with their workflow," says Stuart.
Support that goes above and beyond
Stuart credits the team at AP Tech and Founder and CEO Andrew Paton for their ongoing support across the range of AV products they supply to Redfish Technologies' comprehensive, integrated solutions. From information on new product resources and firmware updates and being on hand to assist with pricing and technical knowledge as required, Redfish Technologies is confident they're receiving support to help them succeed.
"The team at AP Tech are always accessible and responsive," says Stuart. "They help us learn the products inside out and put us in the position to sell and support the products we buy with absolute confidence."
To learn more about Redfish Technologies, visit their website.


About Epiphan
Epiphan Video provides award-winning, purpose-built hardware solutions that help your business create impactful video content. 
The Epiphan Pearl range of hardware encoders is the ultimate system for maximum versatility with multi-encoding, multi-streaming, recording, custom layouts, switching, and more. Ideal for use in live event production, enterprise communication or lecture capture in higher education.
AP Tech is the authorised Australian distributor of Epiphan Video products. Every Epiphan solution from AP Tech is backed by local warranty and support.