Lecture capture in education settings has evolved significantly in recent years. Capturing high-quality video has become essential. From recorded and live-streamed lessons and live-streamed events such as inaugurations and graduations, there is an expectation that educational institutions provide enhanced and professional output for remote learners.
APT AV offers two exceptional pan tilt zoom (PTZ) cameras that removes physical boundaries and delivers an immersive experience for remote learners. The UV220T Lecturer Auto-Tracking ePTZ Camera and the UV 100T Education Intelligent Auto-Tracking Camera enables educational institutions to expand their reach and seamlessly deliver audio-visual excellence.
Tracking accuracy and smoothness is the foundation of compelling video content and central to the student viewing experience, making it a critical aspect of lecturer camera performance. It's where the UV220T and UV100T excel.
This article provides detailed information on these APT AV cameras that are specifically designed for auto-tracking in educational settings.
APT AV UV220T Lecturer Auto-Tracking ePTZ Camera
Advanced Lecturer Tracking. High Performance Value
The APT AV UV220T was designed for lecturer tracking in education settings. It delivers accurate and natural tracking capability, exceptional image quality, and robust reliability.
 The performance and reliability of the UV220T are driven by world-leading technology and high-quality components.
 Auto-tracking maintains smooth and natural focus on the subject, while tracking data is also used to maintain correct subject brightness, even in backlit situations.
 The UV220T is an intelligent choice for educational institutions by combining exceptional performance with reliability and value for money.
Intelligent lecturer tracking:
 At the heart of the UV220T is advanced image recognition technology with an integrated AI-driven tracking algorithm. Tracking is accurate, stable, fast and smoothly controlled. Once the target subject is locked, it is unhindered by interference from other moving objects. Tracking performance is not affected by classroom size, shape or layout.
 Tracking also maintains consistent subject image brightness, with ultra-wide dynamic exposure control accounting for even heavily backlit conditions, such as presenting in front of a projection screen.
 Multiple tracking modes with sensitivity control 
Multiple tracking modes include tracking mode, movie mode and area tracking mode. Tracking sensitivity can be adjusted to prevent tracking adjustment caused by minor movements or gestures.
 4K CMOS image sensor with Full HD output
The 1/2.8-inch 4K CMOS sensor produces Full HD 1080P video output. The sensor features inherently low noise and a high signal-to-noise ratio. Furthermore, advanced 2D/3D noise reduction technology further reduces image noise and ensures image sharpness.
Wide angle lens with 3X digital zoom 
The ultra-wide-angle distortion-free lens combines a 3X digital zoom and simultaneous EPTZ control. Oversampling of the 4K image sensor output maintains FHD image resolution.
Connectivity options with PoE support
SDI, USB3.0 and Gigabit LAN connectivity is provided along with PoE support.
Multiple streams
Up to five simultaneous streams are supported: Close-up main; Close-up sub; Panoramic main, Panoramic sub and Blackboard writing streams. There's support for H.265, H.264 and MPEG video codecs.
Multiple control protocols
Remote camera function control is available with VISCA, PELCO-D, and PELCO-P protocols.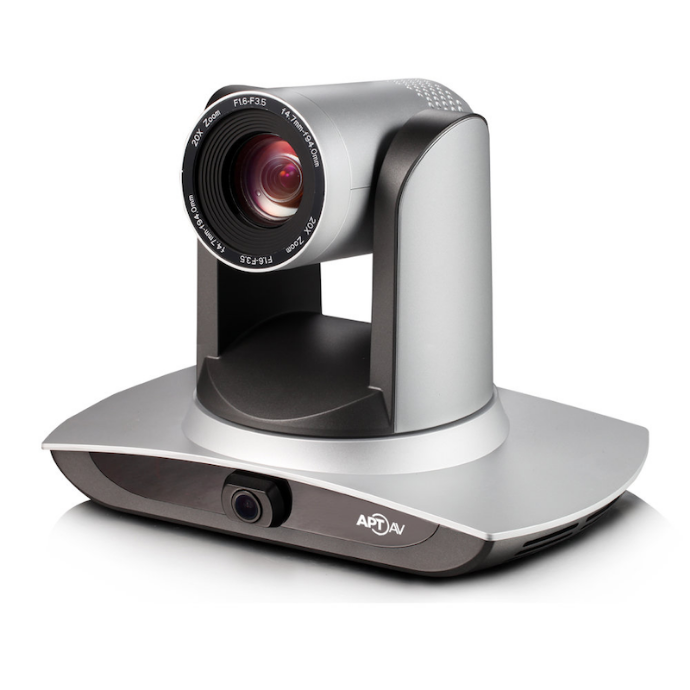 Leading tracking performance. Advanced features and technology
The UV100T is a fully-featured, high-performance camera designed for live lecture video in education environments. Featuring Auto-Tracking Pan Tilt Zoom (PTZ), an integrated ultra-wide panoramic camera and Full HD output resolution, the UV100T is built to capture hybrid and online learning content.
The UV100T features a choice of 12X or 20X optical zoom lenses with a mechanical PTZ and intelligent subject tracking. Advanced tracking capability keeps the subject locked on and in focus. Advanced digital image processing technologies and algorithms produce vivid image quality and screen brightness uniformity, with a strong sense of depth, high-definition, and accurate colour rendition.
The UV100T is two cameras in one. An integrated panoramic camera captures an ultra-wide view, available in a separate stream.
The UV100T delivers excellent tracking and image quality, reliable operation and ease of use with class-leading value for money.
Advanced intelligent tracking
While the UV100T delivers in every aspect of image quality, high-performance auto-tracking was the primary design focus of the UV100T. Intensive development has resulted in an extensive suite of highly sophisticated image-processing technologies. These include people detection, locking and tracking to ensure the target tracking is consistently accurate, smooth and fast.
Image detection is applied to every video image frame. Anti-interference algorithms ensure that once the target is locked, tracking is unhindered by interference from other moving objects. People can be accurately distinguished from backgrounds, even in visually complex environments or where multiple moving targets are present. The resulting target loss rate is minimal.
Tracking also controls automatic Zoom control to maintain subject framing according to distance. Image brightness is adjusted for the tracked subject to deliver outstanding results in even challenging lighting conditions.
Tracking sensitivity can be adjusted to prevent tracking adjustment caused by minor movements or gestures. Furthermore, environmental adaptability ensures that tracking performance is not affected by room size, shape or seating arrangement.
The high-quality PTZ mechanism incorporates a step-drive motor that makes PTZ operation smooth and virtually silent.


Superb High-definition Video
Sharp and vibrant video is delivered by advanced lens, sensor and image processing technologies.
12X or 20X precision optical zoom lenses are available to match specific camera locations, room sizes and framing requirements.
The 1/2.8-inch high-quality CMOS sensor produces inherently low-noise Full HD video. Advanced 2D/3D noise reduction technology is used to suppress noise further while ensuring image sharpness.
Advanced image processing controls the camera's exposure, autofocus, and white balance. Focus is accurate and stable without AF hunting, while image quality is optimised for ambient lighting conditions.
Output resolution is Ful HD 1920 x 1080 pixels at up to 60 frames per second for single channel or 30 fps for dual channel streams. H.264 and H.265 video codecs are supported.
Integrated panoramic camera
The UV100T is two cameras in one. A dedicated panoramic camera captures an ultra-wide room view with video available in a separate output stream.
Connectivity options with PoE support
Two connectivity versions are available. The SDI Interface version includes SDI and LAN, while the HDMI U3 Interface version includes HDMI, U3 and LAN. PoE is supported.
Multiple Network Protocols
Support is provided for ONVIF, GB/T28181, RTSP and RTMP protocols. RTP multicast mode enables linking to streaming media servers such as Wowza and FMS.
Multiple Control Protocol

Support is provided for VISCA, PELCO-D, and PELCO-P protocols and automatic protocol identification.
Audio Input Interface
Supports 8000, 16000, 32000, 44100 or 48000Hz sampling frequency and AAC, MP3, and PCM audio coding.
Low-power Sleep Function
Supports low-power sleep and wake-up. Power consumption in sleep mode is less than 400mW.
Find the best solution for video in education
Are you interested in finding out more? Our team of AV experts are always available to discuss how APT AV cameras can enhance lecture and event video capture for your educational institution. Get in touch, and let's get started.

About AP Tech
AP Tech is a specialist importer and distributor of video communications and streaming technology, products, and solutions. We provide IT and AV integrators with insights to help you build world-class solutions for your clients, with technical expertise and personalised service. Every solution from AP Tech is backed by local warranty and support.