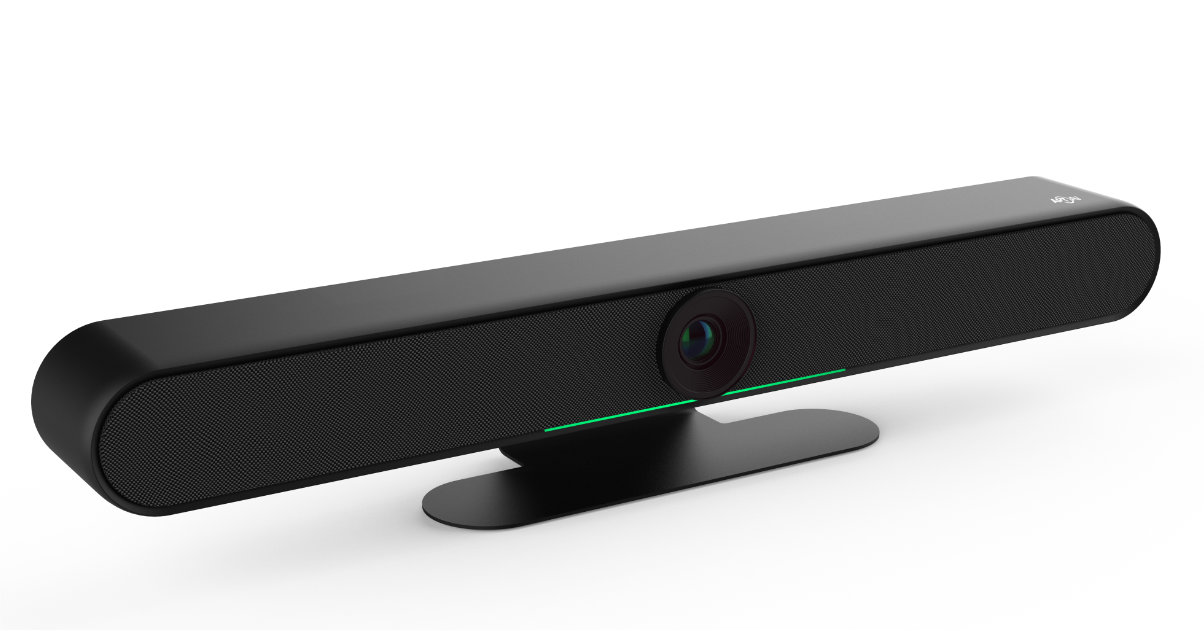 A well-priced 4K videobar with 'cut above' auto-framing features.
Review: Christopher Holder
Videobars are everywhere, and it's easy to see why. They promise a neat, all-in-one package that takes care of meeting room sound, microphones and video. That said, it's asking quite a lot of that technology to provide a truly satisfying VC experience — results, as they say, may vary.

APT AV Offering
Australian AV distributor, AP Technologies, is marketing a line of meeting room peripherals under the APT AV name, including the VB460 videobar.
It's a good-looking, solidly-built product. It doesn't break any new ground for aesthetics — it's a familiar form factor — designed to sit atop or underneath your in-room display. Mounts and brackets are all available.
Leading the specs is a 4K camera, a six-element mic array and a 2 x 10W speaker system. It's pitched at small- to mid-sized meeting room.
Auto Features
The 120° wide angle lens will suit just about any room situation with minimal fish-eye distortion. The 4K sensor is handy, even for ensuring you get an HD image after the videobar does its autoframing. The camera boasts noise reduction technology to maintain clarity in low light, which functioned well in our tests — although, don't expect it to miraculously compensate for hopelessly inadequate in-room lighting.
The facial-recognising auto framing is designed to optimally frame the shot depending on the number of participants. It's also designed to centre the main presenter using speaker tracking tech. We found this feature to be snappy and effective.
The audio offering promises a fistful of TLAs (that's three-letter acronyms, for the uninitiated), including AEC (Acoustic Echo Cancellation), AGC (Automatic Gain Control) and ANS (Automatic Noise Suppression). The aim is to balance the audio levels of all participants in the room while keeping intelligibility high. Again, tests suggest these features work well to maintain a good balance.
Plugged In
Around the back, you'll find the requisite I/O, including an audio out for extra loudspeakers or a feed to a hearing assist system. If you want to add another APTAV microphone to cover a larger room, you can do that via the RJ45 socket.
The Bluetooth functionality is a nice addition: pair the videobar to your device, and you can use the videobar's mics and speakers to take a call, or you can stream Spotify to the VB460 if you so desire.
The privacy cover that automatically shutters when the unit isn't functioning is another welcome touch that can soothe rattled nerves in highly-confidential non-VC situations.
Finally, the remote controller is well laid out and provides access to the main features.
The APT AV VB460 may be a new entrant to an already crowded vertical, but the technology itself is proven, and the package is a cut above and priced well.
Key Features
Lens: 1.89mm f/2.0
Field of view: 120° (diagonal)
Sensor: CMOS sensor, 8 million effective pixels
Minimum Illumination: 0.5 lux
Built-in 4K UHD camera, microphone array, high fidelity speaker & electric privacy cover
Video Format 
HDMI: 4KP30, 1080P60 downward compatible
USB: 4KP30, 1080P60 downward compatible
Video Codec: MPEG, TUY2, H.264, H.265, NV12
Audio Processing
AEC (Acoustic Echo Cancellation)
AGC (Automatic Gain Control)
ANS (Automatic Noise Suppression)
Auto Framing 
Built-in face detection algorithm automatically detects participant and provide optimal framing.
Connectivity
USB3.0, Type C supports UVC1.1, UAC1.0 & higher

HDMI, compatible with HDMI2.0

Line In & Line Out

Expansion Mic can be connected via an RJ45 connector

Bluetooth 5.0
*This blog is extracted from AV Technology.