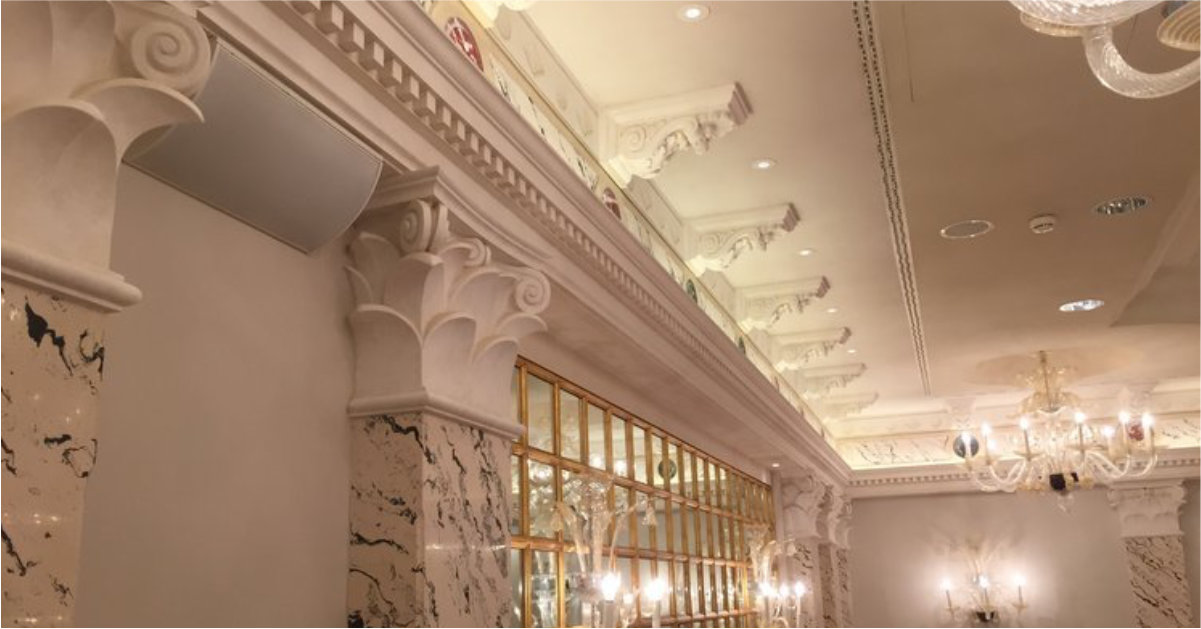 The requirement for a visually pleasing audio speaker design that compliments today's highly refined hospitality, retail and experiential spaces is unrelenting. However, beautiful design is not enough; audio performance must match or be better than traditional designs.
That is the challenge that motivates every speaker design at Cornered Audio.

This blog looks at the configuration and mounting options for Cornered Audio speakers and application examples.
Smart Configurations for Installation
With a unique patented 90-degree triangular design, Cornered Audio speakers can be flush-mounted on walls, ceilings, and corners in myriad combinations. Mounting points are an integrated part of the design - discreetly hidden behind the front cover - so no bracket takes up space behind the speaker. 
The speakers fit vertically in a corner or horizontally between the wall and the ceiling. Two, three and four cabinets can be coupled together for extended coverage. 
They can also be suspended from the ceiling as a single piece or with two cabinets in a half-moon application for wider coverage. 
The built-in slider brackets make installation easy for one person.
Immersive space-filling dispersion
Carefully designed cone and dome geometry and crossovers ensure seamless integration between woofers and tweeters. Excellent coverage control with a few speakers can fill even large rooms with beautifully controlled foreground or background sound. Silk dome tweeters reproduce clean and smooth high frequencies up to 25 kHz throughout the range. 
The triangular shape of the cabinet efficiently reduces standing waves from inside the cabinet, further increasing the clarity and making the speakers sound substantially larger than they are. Indoors or out.
EASE and EASE Focus data are available for all models.
Applications
 There's a Cornered audio speaker for every application. From the affordable Ci Series to the mid-scale yet dynamically impressive C Series and the exquisite sonic detail produced by the high-spec LS series. For venues of all sizes and solutions, indoors and out. 
The Cornered Audio range is suitable for a wide range of industries and applications: hospitality, retail, bars, restaurants, hotels, galleries, museums, education, corporate and more. Here are some prime examples demonstrating the infinite possibilities for aesthetically pleasing sound. 
Hospitality: 8x LS1, 3x C15NC subs for inside and 6x Ci5V speakers for the outdoors at Chalet L at Lewick Resort, Luxembourg.