If done correctly, remote video production can deliver freedom, flexibility and efficiency for your business. But wrapping your head around it all can be confusing, even if you're experienced in traditional, in-person video production.
This guide breaks down the key components of remote video production. It offers practical advice to help you set up and execute polished and professional live streaming and video recording sessions. We will cover the following:
What is remote video production?
How remote video production works
How to set up for remote live streaming and recording
What is remote video production?
Remote video production is any situation where the producer isn't in the exact location of the people on camera. For example, imagine there's a conference that's being streamed and recorded simultaneously. The panellists are on stage presenting to the audience, and the producer or production team is located at a different location, whether at head office, another city or even from the comfort of their homes.
Furthermore, the producer could be monitoring an entirely different event happening simultaneously – all from the comfort and convenience of where they work best. The sky is the limit with today's video production technology. Remote video production cuts costs, drives efficiency and unlocks flexibility for production teams.
How remote video production works
Remote video production is very different to on-site video production. This includes production processes, workflows and equipment (if your existing technology lacks remote capabilities).
The tools you'll need for your remote production project will depend on the specifics of your project. For example, your setup might include the following:
Pro-grade cameras – e.g. PTZ cameras
A video switcher for multiple inputs/layouts
A remote-controlled audio mixer (remotely accessible or with local controls extended through a VPN or remote desktop software)
Lighting with Digital Multiplex (DMX) protocol support
The cloud is essential for remote production
A robust network is critical, given that the producer controls all equipment remotely. The network layer is the biggest challenge of remote video production. It's a massive concern for live video producers who don't have the luxury of resetting and rolling again after a network hiccup.
Luckily, you can mitigate this risk by using a cloud video service like Epiphan Cloud. Cloud-based services like these have built-in redundancy. They run on distributed server farms, which means they'll keep your live stream online if your producer's internet becomes unstable. Additionally, you have a backup producer on standby who can take over while any issues are being remedied.


Cloud-based video production also makes it easier to collaborate with others. For instance, you could have a producer mixing and switching while a supervisor oversees the production – and they could be located miles away from the venue and each other.
Cloud-based production also comes in handy for post-production as you can quickly transfer files to a video editor who can start stitching everything together.
SRT: the key to flawless remote contributions
Network issues aren't just a problem for producers; if any or all of your contributors are participating remotely, they too can battle fluctuating bandwidth, inconsistent quality and other network issues. These sorts of problems aren't just frustrating to deal with. They can also impact the quality of your production.
This is why the Secure Reliable Transport (SRT) protocol has been a breakthrough for remote production. It's designed for high-quality, low-latency streaming over virtually any network, making it ideal for combating variable network conditions for remote contributors.
SRT is open source and widely adopted, making it easy to find SRT-compatible equipment (including Epiphan solutions). More than 500 companies around the globe have signed on to the SRT Alliance. For these reasons, SRT should be a key component of your remote production setup.
How to setup for remote live streaming and recording
There are various ways to set up a remote production. Here's one example built on Epiphan's remote-capable hardware and cloud video services.
Setup 1: Remote-capable hardware encoders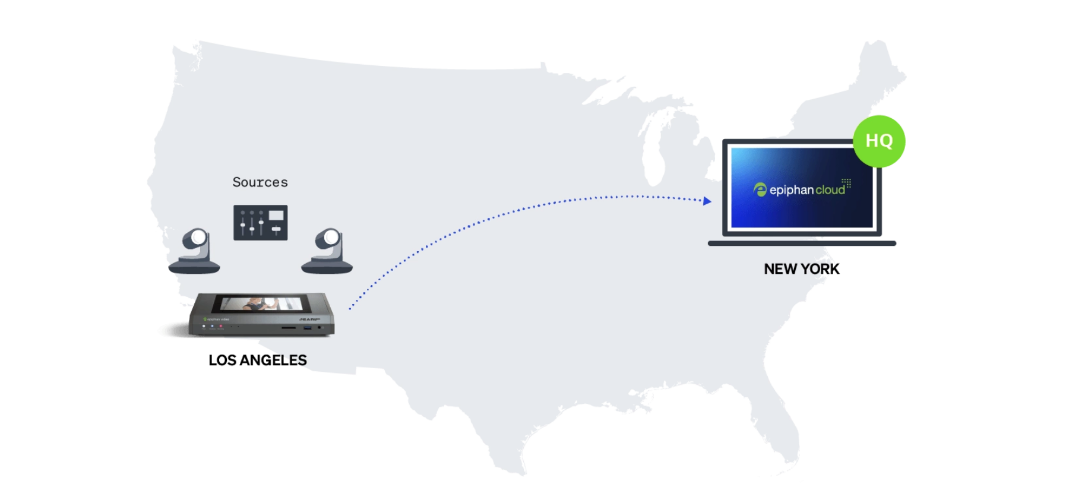 Epiphan Pearl video production systems feature full remote access and control capabilities. You only need an Internet connection and Epiphan Cloud – no VPNs or network tunnels required.
The Pearl product line comprises three systems: Pearl Nano, Pearl Mini, and Pearl-2. They differ in features, form factor, and the applications they're best suited for. For example, Pearl-2 makes an exceptional production encoder since it offers the most processing power to support advanced features like chroma keying. Plus, Pearl-2 can accept up to six SRT inputs. Then there's Pearl Nano, the best SRT encoder for remote contributions and guests. It's an ultra-compact and refined device perfect for shipping to remote participants to elevate the quality of their feeds.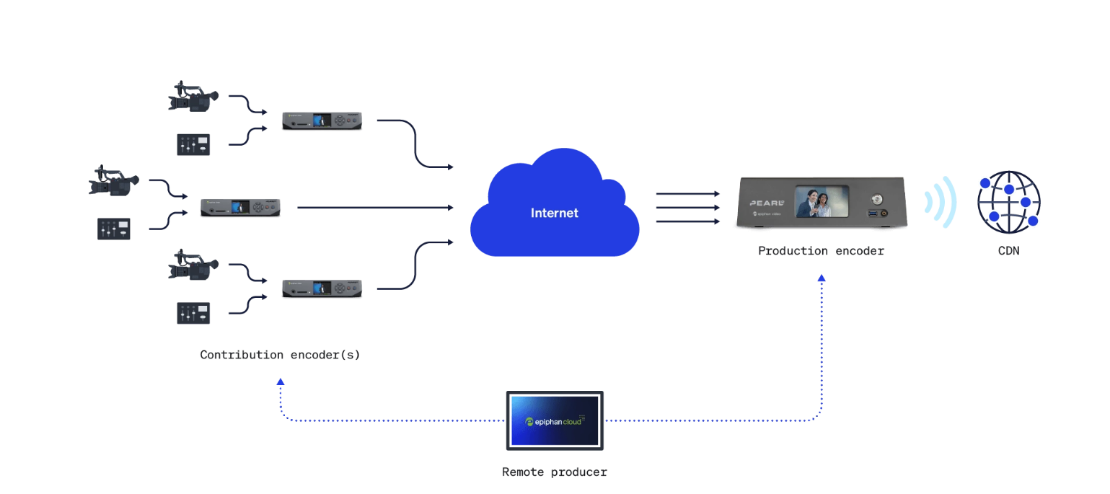 Another great advantage of Pearl-powered remote production: end-to-end configuration and control. From Epiphan Cloud's centralised dashboard, you can access and tweak any paired Pearl system. This way, your remote contributors don't have to be video production experts to output SRT. The producer can take care of all the pre-show configuration and testing, minimising the likelihood of errors.
Set up 2: Microsoft Team signal extraction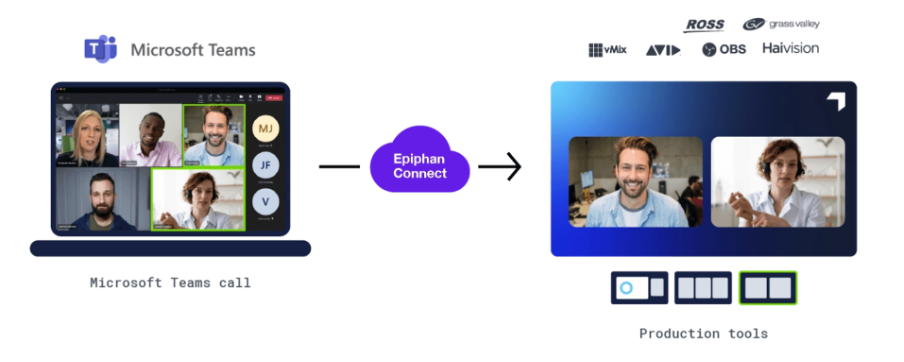 Millions of people use Microsoft Teams every day, and not just for video communications. It's becoming common practice to produce live events with Microsoft Teams.
Microsoft Teams is convenient, familiar and makes it easy to bring people together to collaborate in real time. It's only natural to look at it as a possible solution for remote video creation. If it's a business video you're making, though, simply streaming out the Microsoft Teams UI won't net the results you're after – that is, to elevate your brand in the eyes of your target customers.
Epiphan Connect makes it easy to extract Microsoft Teams participant feeds (and screen-share content) and add them to branded layouts using your preferred production tools, whether that's hardware or software. You can display those extracted feeds in Full HD and with isolated audio, making it feasible to use them for professional-quality live streams and recorded content.
Make remote video production look easy
Thriving in today's hybrid world demands hybrid production solutions like Epiphan Pearl, Epiphan Cloud and Epiphan Connect. Visit our website to learn more about Epiphan's range of products.

*The information in this blog is extracted from Epiphan.
About AP Tech
AP Tech is a specialist importer and distributor of video communications and streaming technology, products, and solutions. We provide IT and AV integrators with insights to help you build world-class solutions for your clients, with technical expertise and personalised service. Every solution from AP Tech is backed by local warranty and support.